Dark Stranger
Trilogy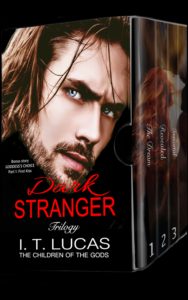 With Goddess
part 1
When gods and immortals still ruled the ancient world, 
one young goddess risked everything for love. 
Promised to the power-hungry god Mortdh, the young Annani is determined to find a way out of the prearranged political union that would one day put Mortdh on the throne. 
Even though Khiann is the son of a merchant and not a member of the leading circle, the handsome young god is a much more appealing choice. Now all she has to do is convince him that she is worth chancing an all-out civil war over succession and possibly his very life.
You can get your own FREE standalone copy of
GODDESS'S CHOICE
Part 1: First Kiss
By leaving a review for THE TRILOGY 
and emailing a link or a screenshot of your review to i@itlucas.com